African American Golfer's Digest Profiles UBGA's Vice President, Jacques Leandre as Golfer of the Week
September 19, 2015 
 Jacques Leandre, On Course in Serving Up Justice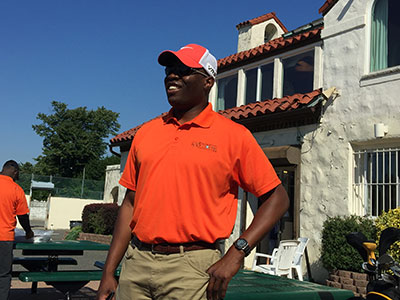 At 6'1"and a lean 190 pounds, Jacques Leandre could compete in just about any sport he chooses.  But the Au-Cap, Haitian born lawyer fancies an attraction to golf.
The Queens, New York resident credits his older brother for introducing him to the game.  It all began when his brother would take him along to a summer job that he worked at high school for a local golf course.  The pair would spend time together swinging, hitting balls, and playing around.
Today, Leandre carries a 23 handicap and relishes every moment that he can get out on the green.  As a member and Co-Founder of the United Black Golfers Association, Inc. (UBGA).
Leandre attended Morehouse College in Atlanta, Georgia where he earned a B.A. in finance before completing law school at the City University of New York Law School at Queens College.   As Principal of his firm, Law Offices of Jacques M. Leandre, PLLC, located on Broadway in Manhattan and specializing in civil rights and community empowerment law, he is known as "The Community Attorney".   When he's not in the office you can find him spending quality time with his wife of 17 years, Chrissy, and their two children, Asia and Jacques III.  Golf is important to him but not more than family.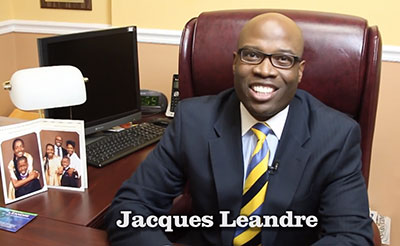 Evening meal time brings about a daily opportunity to bond and to catch-up on what's been happening for the Leandre clan, especially when his favorite dishes of red snapper and navy bean soup are being served.
To keep a decent handicap you have to practice.  
Although work takes it's toll, Leandre tries to play at least four times a month, and, usually with his best golf buddy Vernel Bennett, UBGA President/Founder.  Their favorite spot?  The Douglaston Golf Course in Queens.
In his specialized career, Leandre is always seeking "justice" and out on the course is no different, where—in this sport, each player is the judge and jury of their own game.
"It is extremely relaxing and always challenging," say the well postured and clean-shaven Leandre about his enjoyment of golf.  But he is also a fierce competitor and plays in several tournaments annually.   For this, he credits the invaluable lessons of having a professional golf instructor who can help you with,  "…playing a consistent game in various weather conditions."
Leandre especially enjoys playing with the "old-timers" and listening to the "war stories".  A most admired golfer for Leandre?  Well, that woud be none other than the late Calvin Peete. "The man was self-taught….Amazing," says Leandre.  "May he rest in peace."
Other than being involved in golf, Leandre participates with coaching little league football for the Rosedale Jets Football Association and conducting legal workshops for at-risk youth.
Do you like this post?